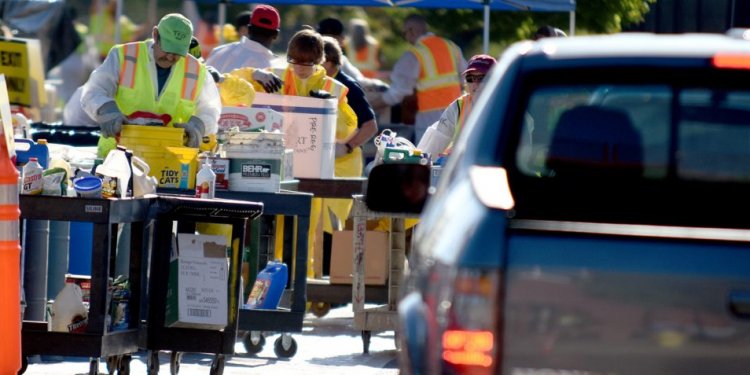 Douglas County Hazardous Waste Disposal

The City of Lawrence/Douglas County Household Hazardous Waste Facility is accepting hazardous waste from Douglas County households throughout the year by APPOINTMENT ONLY. Call the Waste Reduction & Recycling Office at (785) 832-3030 to schedule a drop-off appointment for any unwanted paint, pesticides, cleaners, old mercury thermometers, and batteries. There is no fee to Douglas County households.
How the Household Hazardous Waste (HHW) Program Works:
Call (785) 832-3030 to schedule a drop-off appointment.
Package your waste for transport in a responsible manner. Keep containers upright with lids tight to minimize spills and maximize safety. Cardboard boxes work well for this.
Drive to the HHW facility (directions provided by staff). Make sure all your hazardous products are labeled.
A Hazardous Waste Technician will meet you at the HHW facility and unload the hazardous waste from your vehicle.
Empty containers and dry latex paint can go in your regular trash, remove the lids so crews can verify the containers are empty or dry.
For your safety and ours, all hazardous waste drop-offs are by appointment only!
What are the proper steps to disposing of expired or unused pharmaceuticals?
Research has found medications and their byproducts in ground and surface waters, suggesting that disposal of old or unused medications down the toilet is not a completely effective way of preventing contamination. Click here (PDF) to review the steps to the proper disposal of pharmaceuticals.
Share this article
Related Posts