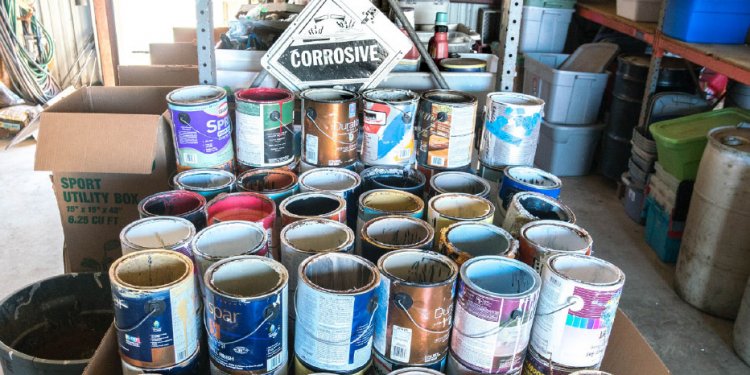 Hazardous Waste Disposal Kansas City Missouri
RecycleSpot.org, sponsored by the MARC Solid Waste Management District, is your go-to resource for discovering recycling providers in the Greater KC Area. Read more
Composting Yard Waste
Composting, the easy, practical way to turn yard waste into a soil enriching resource, is gaining momentum nationwide. Your own back yard is the best place to start. The cheapest, most efficient and environmentally safe way to recycle yard waste is to keep clippings, branches, flowers and leaves in a compost pile. You can build your own compost structure from wire wood or fencing.
Hazardous Waste in Your House
Household Hazardous Waste (HHW) includes household cleaners, lawn and garden products, automotive fluids, paints and paint-related products. Common HHW products that can be taken to a collection facility include:
Automotive products
Antifreeze
Batteries
CFL light bulbs
Fertilizers
Flammables
Fuels
Hazardous cleaners
Hazardous liquids
Household cleaners
Lawn and garden products
Paint and paint related products
Pesticides
Photographic chemicals
Pool chemicals
Solvents
Thinners
Used Oil
Facility does not accept:
Explosives
Yard waste
Commercial waste
Pressurized gas cylinders
Items containing asbestos
Tires
Appliances
Residents of the participating communities in Clay County have access to centers in Kansas City and also to a number of mobile collections held throughout the County, free of charge.
You must bring ID with proof of residency. There is a disposal charge per vehicle for residents of non-participating communities.
KC/MO Facility
4707 Deramus Ave
Kansas City, MO 64120
(816) 513-8400 (new)
Open Thursday and Friday 9-6 and Saturday 9-4.
No appointment necessary.
(map)
Lee's Summit Facility
By appointment only
call 816-969-1805
100-pound limit per visit
Open first Saturday of the month April thru November
Open every third Wednesday for the year for Antifreeze, batteries, oil and paint only.
Leaves & Brush Drop-Off locations
Locations, drop-off times, residency requirements, fees and closing dates are here:
Missouri Organic Recycling
Share this article
Related Posts