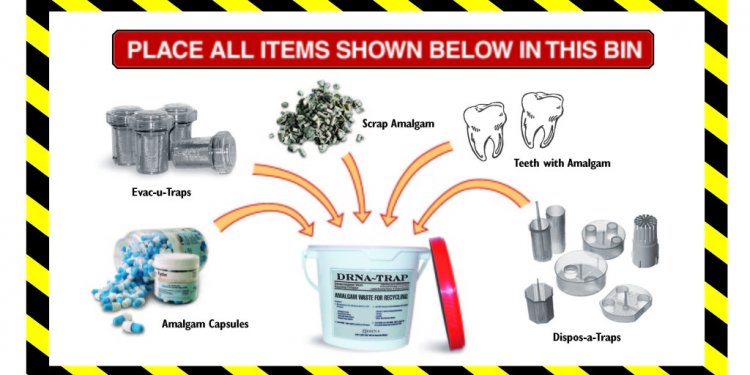 Amalgam Waste Disposal
The dental profession has always emphasized preventive care. Now, this spirit of prevention needs to extend to preventing the release of amalgam to the environment.
Amalgam is typically 50 percent mercury by weight. However, the mercury in amalgam chemically combines with other metals to render the mercury stable and safe for use in dental applications.
Given that dental amalgam contains mercury, dentists must safely dispose of amalgam waste to ensure it does not inadvertently become incinerated or disposed of in a way that would release mercury back into the environment in a free form.
Amalgam is, and will likely remain, an efficient and effective restorative material. Dentists will continue using it for the foreseeable future, although its use continues to gradually decline. Even if dentists completely stopped using amalgam for new fillings, the removal of old amalgam will continue to generate waste.
At dental offices, vacuum systems discharge amalgam to the sewerage system when dentists place or remove amalgam fillings. Mercury pollution has caused the Wisconsin Department of Natural Resources to issue a statewide fish consumption advisory.
The DNR requires sewage treatment facilities to implement a mercury minimization program to address mercury in wastewater. A primary element of this program is reducing the amount of amalgam discharged by dental offices.
The WDA also has identified best management practices for amalgam waste disposal. While important, best management practices alone may not be enough for regulated wastewater systems to meet the Environmental Protection Agency's discharge standards. Some local wastewater systems will require dentists in their service areas to install amalgam separators.
If your community requires an amalgam separator, they are available from several suppliers and are decrease amalgam in wastewater by 95 percent or more. See more information below. The WDA endorses HealthFirst for this service.
Types of amalgam
Non-contact amalgam (scrap) is excess mix leftover at the end of a dental procedure. Many recyclers will pay for this clean up.
Contact amalgam is amalgam that has been in contact with the patient. Examples are extracted teeth with amalgam restorations or amalgam captured by chair-side traps, filters or screens.
Chair-side traps capture amalgam waste during amalgam placement or removal procedures. (Traps from dental units dedicated strictly to hygiene may be placed in with regular garbage.)
Vacuum pump filters or traps contain amalgam sludge and water. Some recyclers will accept whole filters. Others will require special handling of this material.
Amalgam sludge is the mixture of liquid and solid material cleaned up from vacuum pump filters or other amalgam capture devices.
Empty amalgam capsules are the containers leftover from precapsulated dental amalgam.
Steps for recycling
Use universal precautions such as gloves, masks and protective eyewear when handling amalgam waste.
Contact an amalgam waste recycler about any special requirements for collecting, storing and transporting amalgam waste.
Store amalgam waste in a covered plastic container labeled "Amalgam for Recycling", or as directed by your recycler. Consider keeping different types of amalgam wastes in separate containers – talk to your recycler about any advantages.
Choosing a separator
More dentists are considering purchasing amalgam separator units to decrease the amount of amalgam in the wastewater leaving their offices. Although this decision is a positive one for the environment, it is not necessarily an easy one for the dentist. While the WDA endorses HealthFirst for amalgam separators, there are a variety of providers to choose from.
These units differ in terms of capacity, physical dimensions, amalgam removal process, how captured amalgam is removed and recycled, how easily they are serviced and how often, and how much they cost to buy and operate. Without some guidance, evaluating amalgam separators can be like comparing apples and oranges. This guide was designed to help dentists identify their specific needs and the key aspects of their office systems that determine which separator unit(s) will be most suitable for their operations.
Step 1: Decision flow sheet
By answering a series of questions relating to your office set-up, the dentist is led to an initial list of separator units that will probably work for his or her office.
dragon flies spirited away dragon dragon buffet fancy bearded dragon crouching tiger hidden dragon sword of destiny how to hatch a dragon egg in minecraft brutal black dragon osrs frilled dragon red dragon fruit house of the dragon release date central bearded dragon blue dragon sea slug asian dragon dragon china dragon ball xenoverse 3 the girl with the dragon tattoo series piccolo dragon ball raya and the last dragon rotten tomatoes fire emblem shadow dragon mithril dragon dragon quest 12 dragon ball bearded dragon colors how many episodes of dragon ball z golden dragon app lightning dragon double dragon movie how to spawn ender dragon bearded dragon food crouching tiger, hidden dragon: sword of destiny ugin the spirit dragon red dragon keyboard my father's dragon snap dragon flower dragon bowl last dragon dragon fruit taste dragon tail dragon ball z logo phoenix and dragon dragon quest builders dragon ball fuse new dragon golden dragon game dark magician girl the dragon knight cell dragon ball z jennie and g dragon steel dragon the girl with the dragon tattoo sequel dragon ball tattoo dragon necklace dragon flying squishmallows dragon dragon silhouette petes dragon dragon logo broly dragon ball z bad dragon toys dragon tattoos for women dragon gate bearded dragon cage dragon ball super movie super hero dragon king's daughter brutal black dragon dragon man skull game of thrones dragon names
Share this article
Related Posts