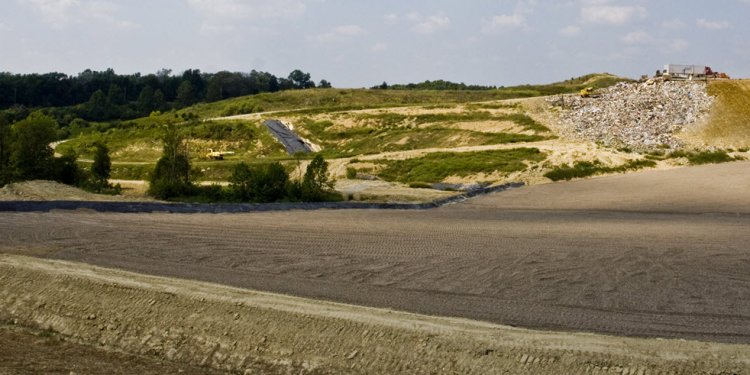 Georgetown Waste Disposal
Ray C. Funnye, Public Services Director
Location: 201 Landfill Drive, Georgetown, S.C.
Phone: (843) 545-3463
Fax: (843) 545-3483
E-mail:
Point of Contact: Fred Davis, Superintendent
Hours: 8 a.m. – 4:30 p.m., Monday through Friday (except for legal holidays)
Directions: Located on Hwy 51, approximately 3 miles northwest of the intersection of Highways 701 and 51.
Request Service:
A number of services provided by Georgetown County government can be requested online. From road grading to grass cutting, pot hole repair, drainage and more, you can report your issue and request service through our At Your Request page using the link below.
Department Functions:
The Recycling and Collections division functions as a component of Georgetown County Environmental Services, providing citizens with a convenient means of recycling and solid waste disposal. The Recycling and Collections division has 14 manned convenience centers throughout the county. Each center provides containers for recycling of newspaper, plastic, cardboard, yard waste, bulk waste, waste tires, used oil, glass, scrap metal, aluminum, steel cans, cooking oil and batteries. These facilities collect approximately 14, 000 tons of recyclables per year. The county also has an Environmental Education Center and Nature Center located at its landfill. These are avenues for community outreach, offering opportunities for residents, students and organizations within the county to learn about environmental issues, department programs and local wildlife.
Electronic Waste Facility:
Georgetown County's Electronic Waste Centralized Collection Facility is located at the Landfill on Highway 51. Hours of operation are 7:30 a.m. - 5 p.m. Monday through Friday and 8:00 a. m. - 4 p.m. on Saturdays. Materials accepted include: Computers, VCRs, radios, copiers, scanners, printers, mobile phones, cable boxes, monitors and televisions. Electronic Waste is also accepted at the Murrells Inlet, Pawley's Island, Johnson Road, Andrews, Sampit, and Pleasant Hill convenience centers during normal operating hours.
Find additional information and convenience center hours at the bottom of this page.
Household Hazardous Waste Facility:
Georgetown County's Household Hazardous Waste Facility is located at the Landfill Convenience Center on Highway 51. The hours of operation are 7:30 a.m. - 5 p.m. Monday through Friday and 8 a.m. - 4 p.m. on Saturdays. Materials accepted include: Paint products, cleaning products, lawn and garden care materials (pesticides, fertilizers, etc.), automotive products and other miscellaneous products. Materials NOT accepted include: radioactive material, bio-hazardous or medical waste, explosives, ammunition, propane cylinders larger than 16.4 oz. and asbestos.
Commercial Recycling Program:
Georgetown County offers a free paper, and cardboard recycling program for businesses. The program provides businesses in the County with recycling containers that are picked up via recycling truck route weekly. To enroll, fill out the application form linked below. You may email the form to James Coley, fax to (843) 545.3483, or mail application to: Georgetown County, Department of Public Services, Division of Environmental Services, P.O. Drawer 421270, Georgetown, S.C. 29440.
C&D Swap Shop:
Georgetown County offers a construction and demolition debris "swap shop." Call (843) 545-3443 for more information.
Frequently Asked Questions:
Q: Where are the convenience centers located? When are the centers open?
A: A map of all convenience center locations, along with hours of operation, is provided at the bottom of this page.
Q: Does Georgetown County accept electronic waste?
A: Yes. Only residential electronic waste is accepted, one unit per household per day. For more information, see the Electronic Waste section above.
Q: Does Georgetown County accept paint?
A: Yes. Only residential paint waste is accepted. It can be brought to the Household Hazardous Waste Facility located at the Landfill Convenience Center.
Q: How should I prepare my yard waste?
A: Yard waste in plastic bags is banned from the convenience centers and the landfill. Kraft paper bags may be used. Call the landfill office for more information, (843) 545-3443.
Q: Can milk jugs and milk cartons be recycled?
A: Yes. Georgetown County will accept both at our convenience centers. Milk Cartons should be placed in the cardboard containers, while milk jugs should be placed with the plastic.
Q: How should I prepare recyclables?
A: Plastic, glass and metal cans should be rinsed. Cardboard boxes should be broken down so they are flat. Discard caps for glass containers before recycling.
Q: Where should I dispose of oil/gas mixtures from my boat or small equipment?
A: The Pawleys Island Convenience Center, Pleasant Hill Convenience Center and Landfill Convenience Center accept oil/gas mixtures.
Q: Can I tour the Environmental Services facility?
A: Yes! The public is welcome to tour the facility. To schedule a tour, call (843) 545-3443.
Q: Is recycling mandatory in Georgetown County?
A: No. However, recycling is strongly encouraged, and we try to make it as easy and convenient as possible.
Recycling Convenience Center Locations and Information
The Pleasant Hill Convenience Center has a large used farm oil container.
Cooking oil is accepted at all centers (see attendant). Bring cooking oil in a disposable container and we'll take care of the rest.
one meal a day success stories
other words for success
quotes about success and failure
sales success quotes
salesforce nonprofit success pack
shark tank success stories
signs of success
success bank
success inspirational quotes
success is no accident quote
animal mating success
c6 c7 surgery success rate
capecitabine success rate
client success manager
college success foundation
customer success management
customer success software
dds success
dress for success atlanta
dress for success locations
eft the key to success
great success borat
how do you measure success
how to stop being jealous of others success
intermittent fasting success stories
iui success rate
lake success camping
letrozole 2.5 mg success
midwives brew success at 37 weeks
motivation quotes about success
motivational success quotes
prayer for success at work
project success
quote motivation success
quotes about education and success
spinal stenosis surgery success rate
standards for success login
success academy job
success auto sales
success criterias
success crossword clue
success for all
success leaves clues
success stories
success syn
success vision paducah ky
success wallpapers
team success quotes
visualize success
what is the national society of leadership and success
bible verses for success
blighted ovum success stories
failure to success
financial success
funny success quotes
give and take: a revolutionary approach to success
hard work success quotes
innovative success systems scam
inspirational quotes about success
inspirational quotes for success
manifesting a specific person success stories
mindset: the new psychology of success
no fetal pole at 7 weeks success stories
nutrisystem success stories
one purdue success factors
palmer skin success
positive affirmations success
powerful words for success
provera pregnancy success
quotes about education and success
reading for success
remdesivir success rate
saw palmetto hair regrowth success
short success quotes
skin success fade cream
standards for success
success academy login
success auto
success boil in bag rice
success criteria
success good morning quotes
success iceberg
success icon
success isn t always about greatness
success rate of bar rescue
success rate of cervical epidural steroid injection
suffering from success
tyler perry's first "urban circuit" play i know i've been changed was an instant success.
what does success mean to you
what is the success rate of prostate surgery
success rate
success rate
4aa embryo success rate
a worker's success in contributing to the common good is
affirmations for success
apicoectomy success rates
auto success
bar rescue success rate
bariatric surgery success rates
bed bug heat treatment success rate
best success quotes
bible verse about success
bone marrow transplant success rate
breastfeeding success
burning mouth syndrome success stories
business success
capecitabine success rate
cardioversion success rate
chantix success rate
chemotherapy success rate
client success
coq10 fertility success
coq10 fertility success stories
crystals for success
customer success manager interview questions
customer success manager jobs
director of customer success salary
dj khaled suffering from success
dress for success locations near me
dress for success near me
dressed for success
eleven rings the soul of success
embryo grading and success rates
everyday success team
fear of success
funny success quotes
gamestop lake success
gold success driving school
grace stirs up success cast
grace stirs up success cast
herbalife success story
hinge success stories
hip labral tear surgery success rate
how to spell success
innovative success systems scam
inspiration quotes for success
is competition necessary for success
iui success rate calculator
ivf success rate by age
jmu student success center
john wooden pyramid of success
keller williams success realty
key success factors
lake success ca
lasik success rate
lexapro success rate
lymphoma treatment success rate
midwives brew success stories
millionaire success habits
motivational quotes about success
motivational success quote
motivational success quote
national society of leadership and success reddit
noom success stories
our lady of good success
our lady of good success novena
pain pump success rate
positive success quotes
powerful quotes about success
powerful words for success
prayer for work success
prohealth lake success
prohealth lake success
quotes about success and failure
rhinoceros success
road to success quote
roads to success quotes
saw palmetto hair regrowth success
sayings on success
school success
short success quotes
singing success
Share this article
Related Posts