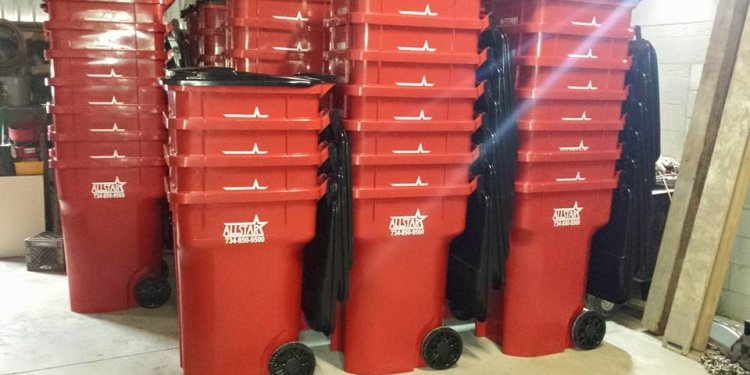 All Star Waste Disposal
Town of Garner Residents :
Seasonal Loose Leaf collection is NOW OVER and will begin again on November 1st, 2017 and ENDS February 28, 2018
(Leaf Trucks Always run Same day as Recycle - and some Saturdays)
We will also continue to collect clear bagged Yard Waste (including Leaves) every week all year long.
CURBSIDE TRASH and GARBAGE: is collected once each week. TRASH means nonputrescible solid waste including but not limited to papers, small boxes, rags, cold ashes and other non-recyclable household solid waste or rubbish in small quantities normally generated by occupied premises. Loose trash should be placed in reusable containers no larger than 32 gallons in size or clear plastic bags in loads not heavier than 60 pounds. All 90 gallon GREEN trash containers should be placed at the curb. Also, small quantities of trash can be placed in your GREEN roll-out container.
NC LAW (Landfills) prohibits the collection and disposal of TVs, PCs, monitors, or any other electrical appliances.
CURBSIDE YARD WASTE COLLECTION: is provided once a week, the same day as your regular garbage day schedule. YARD WASTE means vegetative matter resulting from landscaping maintenance, including but not limited to leaves, grass, twigs, limbs, hedge trimmings, plant trimmings, hay, straw, pine straw, pine cones, and shrubs. Loose yard waste should be placed either in clear plastic bags or reusable containers no larger than 32 gallons in size. All yard waste debris should be placed behind the curb. Limbs, hedge clippings, or shrubs less than 1 1/2 inches in diameter should be tied in bundles not exceeding 4 feet in length and 50 pounds in weight or placed in a reusable container. Limbs larger than 1 1/2 inches in diameter need not be tied, but should not exceed 4 foot lengths and 50 pounds per piece, placed with the large ends toward the street. The Town nor All Star Waste Services will not pick up any yard waste generated by a commercial or contracted/paid service.
YARD WASTE MUST BE PROPERLY PREPARED: NOTICE - Improperly prepared curbside trash and yard waste will not be collected as part of the regular service. If this improperly prepared waste accumulates next to the street it becomes unsafe and unsightly. As a result, the Town will periodically survey the community, tag and remove improperly prepared yard waste, and bill the resident for these collections. The charges for the collection of improperly prepared trash and yard waste are: $40.00 for a small pile (wheelbarrow size load), and $80.00 for a medium pile (pickup truck size load), and $120.00 for a large pile (small dump truck size load).
Share this article
Related Posts