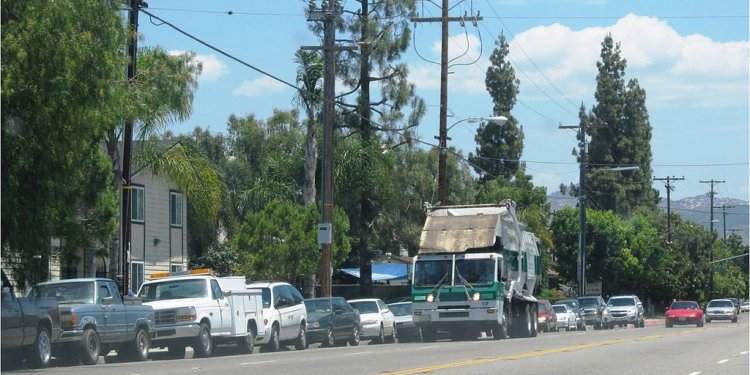 Escondido Waste Disposal
For information call the Earth 911 Recycling Hotline to locate drop-off programs for hazardous and non-hazardous materials: 1-800-CLEANUP (800-253-2687) or www.earth911.org
Universal Waste
The following universal wastes may not be placed out for curbside collection or disposed of in a bin/container meant for solid waste:
Common Batteries – AA, AAA, D cells, C cells and button batteries (e.g. hearing aid batteries)
Fluorescent tubes and bulbs including mercury containing lamps
Electronic Devices – televisions, computers and computer monitors, printers, VCR's, cell phones, telephones, radios and microwave ovens
Pilot Light Sensors – Mercury containing switches are found in some gas appliances such as stoves, ovens, clothes dryers, water heaters, furnaces and space heaters
Items containing Mercury – Gauges, thermometers, thermostats and switches Non-Empty aerosol cans that contain hazardous materials – cans that are labeled with TOXIC or FLAMMABLE that are not completely empty
Paint
Paint may not be placed out for curbside collection or disposed of in a bin/container meant for solid waste. FREE paint recycling is available at drop-off sites throughout California. Most of these sites are at paint retailers (paint, hardware, and home improvement stores) that have volunteered to take back paint, and they are available to any resident and business in California. These stores accept paint whenever they are open for business. Below is a link where you can find a drop-off site near you and view hours and restrictions.
>Find a PaintCare drop-off location
Vista & San Marcos City, Encinitas, Poway,
National City, Solana Beach
(800) 714-1195
ALL County Unincorporated areas
1- 877-713-2784
City of Escondido
760-745-3203
City of La Mesa
619-287-5696 ext. 4270
City of Lemon Grove
National City
619-691-5122
City of Coronado
619-522-7380
Imperial Beach
Orange County
714- 834-6752
Los Angeles County
800-238-0172
EDCO Now Recycles Cooking Oil!
Don't pour it down the drain, in the yard, or in your trash. Bring it to one of EDCO's Buyback Centers and we'll make sure it is reused. EDCO has established a Fats, Oils, and Grease, (FOG) collection program. With your help working together we can keep fats, oils, and grease (FOG) out of the drain and the ground and establish a reuse for it. It's a free service and you'll feel a whole lot greener. EDCO will ship the collected FOG to a refining facility where it will be processed into biodiesel. Note: Please don't mix this product with any other oils such as motor oil or gear oil.
Free E-Waste Drop Off Locations
EDCO is excited to announce that residents now have a convenient place to drop off electronic waste free of charge. Proper disposal of electronic waste (e-waste) is becoming a major environmental concern. Computer monitors, hard drives/CPUs, scanners, keyboards, televisions, VCRs, radios, printers, fax machines, etc., all contain significant levels of lead that should not be put into the regular trash stream. You can drop off your e-waste free of charge at an EDCO Facility near you. (during operating hours only) – click here for locations.
Items Accepted Include:
Computer and Television Monitors
Central Processing Units (CPUs)
Laptop Computers
Miscellaneous Computer Components
Printers and Scanners
Fax Machines
VCRs
Radios
Cell Phones
Share this article
Related Posts