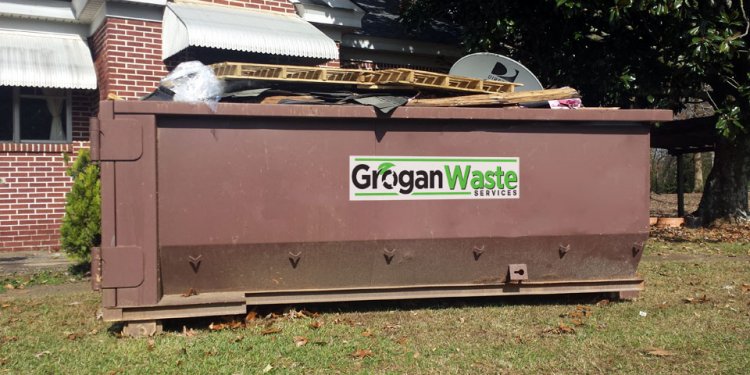 Roofing Waste Disposal

Even once you've nailed down the final strip of shingles, there's still work to be done. Getting rid of the old roofing shingles can be quite a chore. The right roll-off dumpster can definitely come in handy. This guide will focus on the important aspects of renting a dumpster for shingle roofing projects.
Other useful roofing and dumpster related information:
We'll cover the cost of renting a dumpster, how to estimate the weight of scrap roofing shingles, how to save money on dumpster rentals, and more.
Whether you're a do-it-yourselfer or a contractor working on a roofing project, the information below is sure to help take the guesswork out of renting a roll-off container for shingle roof replacements.
The type of roofing shingle matters
Not all roofing shingles are created equal, and not just in terms of quality and appearance. The two main types of roofing shingles on the market are 3-tab asphalt shingles and architectural-style shingles. You most likely have one or the other.
3-tab shingles: This is a more traditional shingle you'd find on many homes. It's a more budget-friendly option. It's also a relatively lightweight shingle, so it's easier to stay under the dumpster rental company's weight limit compared to premium-style shingles.
Architectural shingles: This is a newer type of roofing shingle that gives a more "premium" look to roofs. If this is the type of shingle you're disposing of, be aware that these shingles are heavy compared to basic 3-tab shingles. Be careful not to underestimate the weight of these shingles—overage costs can rack up pretty quickly. (Read about overage charges below.)
Roofing "square" vs. Square footage
In the roofing biz, "square" is the standard unit of measurement. One square is equal to 100 square feet. For example, a 2, 000 square foot roof is equal to 20 square.
How much does a bundle of shingles weight?
Roofing shingles are generally sold in bundles. Three bundles is equal to one square. Each bundle is relatively heavy, weighing in at 60 to 80 lbs. depending upon the type of shingle.
Knowing approximately how many squares of shingles you have to dispose of makes it easier to communicate that info to the dumpster rental company, who can then recommend the right sized container.
How much does a square of shingles weigh?
A square of shingles weighs 250 lbs. to 400 lbs. depending upon the type of shingle (see below).
An important thing to keep in mind is that many roofs have multiple layers of shingles, so you must factor that in when determining weight and choosing a dumpster.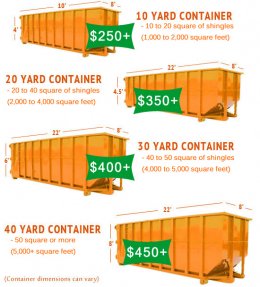 For example, a 20 square roof with two layers of shingles will actually produce shingle waste equal to 40 squares.
Know how many layers of existing shingles are on your roof prior to ordering the dumpster to ensure you choose the right one and avoid having to get a second dumpster later.
Still unsure of what size dumpster you need?
3-tab shingles weigh up to 250 lbs per square
| | | |
| --- | --- | --- |
| Roofing Squares (3-Tabs) | Shingle Debris Weight | Ideal Dumpster Size |
| 10 | 1.25 tons | 10 yard |
| 20 | 2.5 tons | |
| 30 | 3.75 tons | 15 yard |
| 40 | 5 tons | 20 yard |
| 50 | 6.25 tons | 20 yard or bigger |
| 60 | 7.5 tons | 30 yard or bigger |
These dumpster size suggestions are based on capacity alone and don't factor in weight allowances. Dumpster rental companies vary when it comes to included weight allowances.
For example, a dumpster rental company may rent a 20-yard container for $400 with an included 4-ton weight allowance, while a competing company rents the same size container for $300 but only includes 2 tons of weight.
***To avoid potential overage charges, always ask the rental provider about the container's tonnage limits before renting a dumpster.
Architectural shingles weigh up to 400 lbs per square
Architectural-style roofing shingles are on average about 40% heavier compared to 3-tab shingles, so you'll need a slightly larger dumpster to accommodate the extra bulk.
| | | |
| --- | --- | --- |
| Roofing Squares (Architectural) | | |
| | 2 tons | |
| | 4 tons | 12 yard |
| | 6 tons | |
| | 8 tons | |
| | 10 tons | 30 yard |
| | 12 tons | |
Dumpster prices: Cost factors and advice for saving on a rental
The cost to rent a dumpster is highly variable and depends on many factors, like your geographic location, container size, weight allowance, duration of the rental, and more.
Examples of rental costs for 10 yard bins in different parts of the country:
**Overage charges vary by location but can be as high as $100 per ton for going over the weight allowance.
The cost of renting a larger container (e.g., 20, 30, and 40 yards) is roughly $50 to $100 more for each 10-cubic-yard increment above that of a 10 yard dumpster. For instance, a 30-yard container in Boston, MA would cost roughly $425 to $525.
Share this article
Related Posts