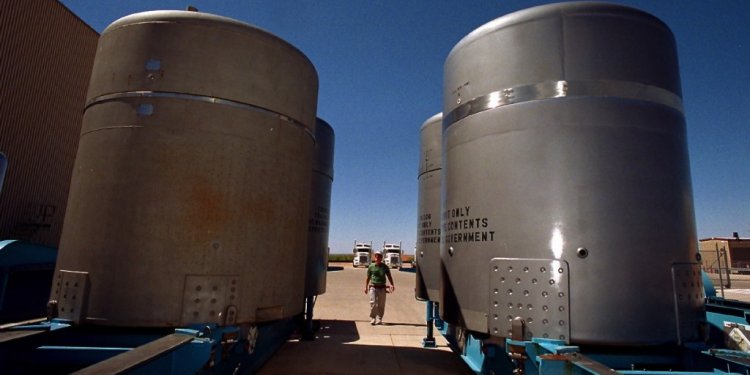 Nuclear Waste Disposal Solutions
Today, the Department of Energy is taking a critical step toward the development of a consent-based approach to siting future nuclear waste management facilities as part of a strategy for the long-term storage and disposal of spent nuclear fuel and high-level radioactive waste. The launch of our consent-based siting initiative represents an important step toward addressing this nuclear waste management challenge, so that we can continue to benefit from nuclear technologies. Today's step forward follows Secretary Moniz's announcement in March 2015 that DOE would move forward with the development of a separate repository for defense waste.
What is a consent-based siting process, and why is it needed? In short, it is a way to ensure that communities, tribes and states, as partners, are comfortable with the location of future storage and disposal facilities before they are constructed. We will be developing a detailed plan for this process in the coming year, and we need your help.
Nuclear power is a critical part of our nation's energy mix, and has reliably provided almost 20 percent of electrical generation in the U.S. over the past two decades. It remains the United States' single largest contributor (more than 60 percent) of non-greenhouse-gas-emitting electric power generation. Spent nuclear fuel from commercial reactors is currently stored on-site at nuclear power plants around the country. While it is safe and secure in these locations, a long-term solution is needed to ensure that the public and environment continue to be protected.
Meeting long-term nuclear waste management needs is essential to ensuring that nuclear power continues to power the nation in a safe, sustainable, and responsible way.
In addition to waste from generation of electricity, waste from defense activities requires safe storage and disposal. The deterrent provided by the nation's nuclear stockpile has kept this country safe for generations. In order to maintain our nuclear deterrent, warheads must be replaced every twenty years. Currently this older material is stored at a few defense locations across the country. While it is also secure, and there is far less of this high level waste material than commercial spent fuel, a solution for the long-term disposal of this material is needed to address our Cold War legacy.
Our strategy for managing both spent nuclear fuel and high-level radioactive waste is laid out in a strategy document from 2013, which was based on recommendations from President Obama's Blue Ribbon Commission on America's Nuclear Future (BRC). The Strategy outlines a need for a pilot interim storage facility, a larger interim storage facility, and long-term geologic repositories. To support each of these elements of an integrated waste management system, the Strategy also emphasizes the importance of a consent-based approach to siting waste storage and disposal facilities throughout the decision making process.
The first step for commercial spent fuel begins with developing a pilot interim storage facility that will mainly accept used nuclear fuel from reactors that have already been shut down. The purpose of a pilot facility is to begin the process of accepting spent fuel from utilities, while also developing and perfecting protocols and procedures for transportation and storage of nuclear waste. It is our goal that throughout the process of developing a pilot interim facility that the Department of Energy builds trust with all of the local communities involved.
Beyond the pilot-scale facility, the Administration also supports the development of a larger interim storage facility with more capacity and capabilities. Even after a long-term geologic repository is operational, interim storage would provide key benefits for waste management. This could include serving as a packaging facility for waste prior to shipment to a long-term repository.
The final piece of the Administration's Strategy is moving toward one or more long-term geologic repositories for both spent nuclear fuel and high-level radioactive waste. According to consensus in the scientific community, geological repositories-which would store nuclear material deep within the earth's surface in safe, scientifically proven locations-represent the safest and most cost-effective method for permanently disposing of spent nuclear fuel and high-level radioactive waste.
Full implementation of this strategy will take time. Today's action brings us a step closer to that goal, and the Department of Energy is seeking the help of all Americans to develop a fair and effective approach to consent-based siting. Your input will inform the design of a consent-based siting process, which will serve as a framework for collaborating with interested host communities across the country.
See also:
Share this article
Related Posts