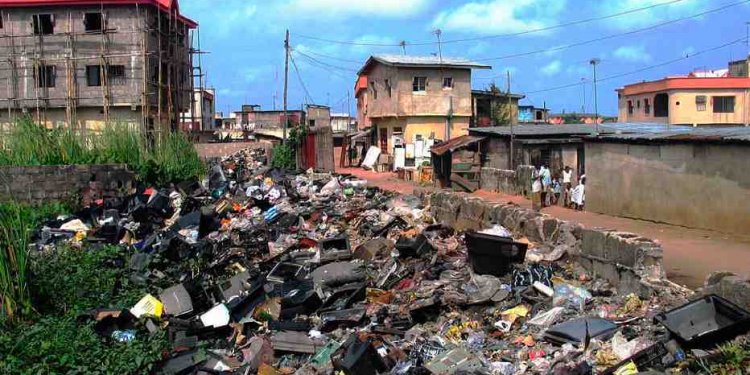 Negative Effect of Waste Disposal
Despite being an attractive technological option for waste management, combustion-based processes for municipal solid waste (MSW) treatment are a subject of intense debate around the world. In the absence of effective controls, harmful pollutants may be emitted into the air, land and water which may influence human health and environment. Although incineration of municipal waste coupled with energy recovery can form an essential part of an integrated waste management system, yet strict controls are required to prevent its negative impacts on human health and environment.
Incineration technology is the controlled combustion of waste with the recovery of heat to produce steam that in turn produces power through steam turbines. MSW after pretreatment is fed to the boiler of suitable choice wherein high pressure steam is used to produce power through a steam turbine. Pyrolysis is extensively used in the petrochemical industry and can be applied to municipal waste treatment where organic waste is transformed into combustible gas and residues. Gasification is another alternative which normally operates at a higher temperature than pyrolysis in limited quantity of air. While both pyrolysis and gasification are feasible technologies to handle municipal waste, commercial applications of either technology have been limited.
Incineration-based technologies have been a subject of intense debate in the environmental, social and political circles. This article evaluates incineration on the basis of three parameters – environmental, human health and economic impact – and proposes an integrated mechanism to maintain a fine balance between energy recovery and environmental concerns.
Environmental Issues
The incineration process produces two types of ash. Bottom ash comes from the furnace and is mixed with slag, while fly ash comes from the stack and contains components that are more hazardous. In municipal waste incinerators, bottom ash is approximately 10% by volume and approximately 20 to 35% by weight of the solid waste input. Fly ash quantities are much lower, generally only a few percent of input. Emissions from incinerators can include heavy metals, dioxins and furans, which may be present in the waste gases, water or ash. Plastic and metals are the major source of the calorific value of the waste. The combustion of plastics, like polyvinyl chloride (PVC) gives rise to these highly toxic pollutants.
Toxics are created at various stages of such thermal technologies, and not only at the end of the stack. These can be created during the process, in the stack pipes, as residues in ash, scrubber water and filters, and in fact even in air plumes which leave the stack. There are no safe ways of avoiding their production or destroying them, and at best they can be trapped at extreme cost in sophisticated filters or in the ash. The ultimate release is unavoidable, and if trapped in ash or filters, these become hazardous wastes themselves.
The pollutants which are created, even if trapped, reside in filters and ash, which need special landfills for disposal. In case energy recovery is attempted, it requires heat exchangers which operate at temperatures which maximize dioxin production. If the gases are quenched, it goes against energy recovery. Such projects disperse incinerator ash throughout the environment which subsequently enter our food chain.
Incinerator technological intervention in the waste stream distorts waste management. Such systems rely on minimum guaranteed waste flows. It indirectly promotes continued waste generation while hindering waste prevention, reuse, composting, recycling, and recycling-based community economic development. It costs cities and municipalities more and provides fewer jobs than comprehensive recycling and composting and also hinders the development of local recycling-based businesses.
Human Health Concerns
Waste incineration systems produce a wide variety of pollutants which are detrimental to human health. Such systems are expensive and does not eliminate or adequately control the toxic emissions from chemically complex MSW. Even new incinerators release toxic metals, dioxins, and acid gases. Far from eliminating the need for a landfill, waste incinerator systems produce toxic ash and other residues.
The waste-to-energy program to maximize energy recovery is technologically incompatible with reducing dioxins emissions. Dioxins are the most lethal Persistent Organic Pollutants (POPs) which have irreparable environmental health consequences. The affected populace includes those living near the incinerator as well as those living in the broader region. People are exposed to toxics compounds in several ways:
* By breathing the air which affects both workers in the plant and people who live nearby;
* By eating locally produced foods or water that have been contaminated by air pollutants from the incinerator; and
* By eating fish or wildlife that have been contaminated by the air emissions.
Dioxin is a highly toxic compound which may cause cancer and neurological damage, and disrupt reproductive systems, thyroid systems, respiratory systems etc.
Financial Impacts
All over the developed world, almost half the investment is put in control systems to reduce toxic emissions such as mercury, cadmium, lead, dioxins, furans, volatile organic compounds etc. For example a 2000 MT per day incinerator can cost upwards of $500 million in Europe, half of the cost being put into emission control. Another problem arises in the case of developing countries because the average calorific value garbage in such countries is about 800 cal / kg. For combustion technologies to succeed they would need about 2000 to 3000 cal / kg, other wise auxiliary fuel has to be added. This makes the process more uneconomical and polluting than it already is.
Share this article
Related Posts