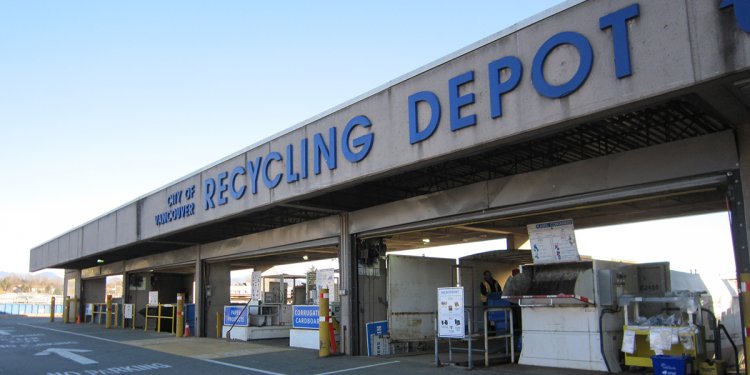 Richmond Waste Disposal SITE
The City of Richmond offers many services for city residents through the Department of Public Works including a variety of recycling and proper disposal programs for many household waste items that can be diverted from local landfills.
Educational Videos
The City provides one 95 gallon green recycling cart with a blue lid to each eligible household within the city limits that has city trash collection. Residents can no longer contact CVWMA's Recycling Hotline for a green 24 gallon bin. Recycling is now collected in the same location as where city trash collection is collected. City residents using the 95 gallon recycling cart, are encouraged to sign up for recycling rewards at Recycling Perks.
Curbside Recycling
The Department of Public Works provides 95 gallon recycling cart to eligible residents wanting to recycle. The City will provide one 95 gallon green recycling cart to anyone living in a single family detached homes accessible from a city street. Collection is every other week where your city trash collection is picked up. There is a small fee for recycling that appears on the water bill. at the curb. If you would like to sign up for this program, please visit the CVWMA homepage or contact the CVWMA at 804-340-0900.
Recycle More with CVWMA! CVWMA accepts aluminum and steel cans, glass bottles and jars, mixed paper and cardboard as well as plastic bottles, tubs, and containers with a #1-#7 on bottom, lids and caps, and cartons such as milk, juice and egg substitutes are recyclable in our residential recycling (curbside) and drop-off recycling programs in our participating member localities.
NOT ACCEPTED: Plastic bags, Styrofoam, or food contaminated pizza boxes will NOT BE accepted for recycling. Recycle plastic bags at local retail stores.
Download 2017 CVWMA Recycling Collection Schedule
Drop Off Recycling Collection Sites
The City maintains four Drop-off Recycling Collection sites that allow residents to bring cardboard, mixed paper, aluminum and steel cans, #1 – #7 plastic bottles and containers, lids and caps, waxy milk and juice cartons, and glass bottles and jars for recycling.
No speciality recyclables collected at these sites.
*1710 Robin Hood Rd (Robin Hood Rd and N. Blvd- across from Arthur Ashe Center) * EFFECTIVE IMMEDIATELY! NEW TIMES ! This site will be open Monday- Sunday, 7 am – 6 pm. City staff will lock gates at 6 pm each evening and unlock gates at 7 am each day.
Southside Transfer Station, 3506 N. Hopkins Rd.
Stratford Hills Shopping Center, 6798 Forest Hill Ave (near Hathaway Rd and Forest Hill Avenue)
*East Richmond Road Convenience Center, 3800 East Richmond Rd. (closed on Saturdays)
Share this article
Related Posts