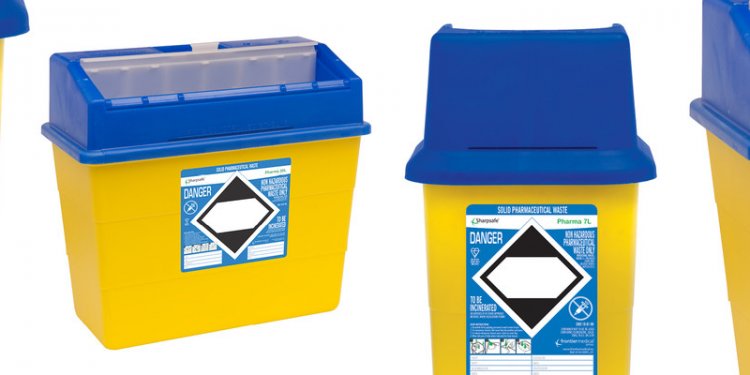 Pharmaceutical Waste Disposal Containers
A total prescription for waste compliance
Did you know you could be fined up to $37, 500 per violation per day by EPA for disposing of your pharmaceutical waste incorrectly? Are you aware of the implications of the California Medical Waste Management Act and the Cal EPA hazardous waste regulations? When it comes to managing and disposing of pharmaceutical waste, hospitals and other healthcare facilities face a host of federal, state, and local regulations. We can help.
Waste Management's Pharmaceutical Waste Disposal Service complies with all EPA, DOT, federal, state, and local regulations:
Our Waste Wizard, web-based on-line solution, provides 24-hour access to pharmaceutical waste categorization information
We help identify secure areas for pharmaceutical waste containers
We collect waste in designated containers, labeled and rated for pharmaceuticals
We properly transport both hazardous and non-hazardous pharmaceutical waste to either a RCRA hazardous waste facility or a permitted regulated medical waste facility, as required by federal and state regulations
PHARMACEUTICAL WASTE CANNOT BE DISPOSED IN THE TRASH, DISPOSED DOWN THE DRAIN OR FLUSHED DOWN THE TOILET.
California does allow non-RCRA California hazardous pharmaceutical waste to be mixed with regulated medical waste IF the entire mixture will be incinerated at a regulated medical waste incinerator. We can assist in advising you as to whether this is economically viable for your facility.
RCRA Hazardous Waste vs non-RCRA California Hazardous Pharmaceutical Waste Management
Pharmaceutical waste that meets the definition of a hazardous waste under the federal Resource Conservation and Recovery Act (RCRA) of 1976 must be discarded into a hazardous waste container. This waste includes P-listed wastes (e.g. nicotine, warfarin (Coumadin), arsenic trioxide, physostigmine salicylate) and their packaging. Another group of drugs, U-listed waste, include six chemotherapy drugs (e.g. cyclophosphamide, mitomycin) and a variety of other drugs. In addition, certain drug formulations exhibit a characteristic of hazardous waste such as ignitability or toxicity (e.g. some pressurized aerosols, m-cresol in human insulin, thimerosal in multi-dose flu vaccine). We also recommend that all unused chemotherapy be managed as hazardous waste. Confused? We can provide you complete guidance through our and We will assist your facility in transporting these wastes to a permitted RCRA hazardous waste incinerator for destruction.
All other pharmaceutical waste generated in California must be managed EITHER as RCRA hazardous waste OR as non-RCRA California hazardous waste. Non-RCRA California hazardous waste must be incinerated at a regulated medical waste incinerator and must be labeled as biohazardous.
DEA Controlled Substances Wastage
Under the Disposal of Controlled Substances final rule September 9, 2014, all expired controlled substances in the pharmacy's inventory must be sent through reverse distribution for witnessed destruction. In addition, any waste controlled substances generated within the pharmacy during compounding or outdated, undispensed IVs must also be reverse distributed.
Any unused controlled substances that have been charged out to a patient, including partial IVs, syringes, or vials, must be managed in such a way as to prevent diversion, according to DEA guidance. We recommend use of a device such as Cactus Smart Sink® or Rx Destroyer™. The cartridges or contents of these devices can then be placed into either the hazardous pharmaceutical waste container, if a hazardous controlled substance has been added, or a non-RCRA California pharmaceutical waste container. We will manage the transport and appropriate destruction of these containers.
how do i trademark my business name
how to become a successful business woman
coworking space brixton
breakdown in communication
stylish lighting
how to start a carpet cleaning business
how to start an ice cream business
light up christmas jumper
what to include in a business proposal
national 5 graphic communication
vegan society
national deaf children's society
what is a good business
modern macrame: 33 stylish projects for your handmade home
coworking wales
private society
christmas number 1 2022
miss international uk 2022
stylish office furniture
kingston communication share price
what is a letterhead for a business
corner outdoor sofa
outdoor lounge chairs
stylish short haircuts for men
pencil christmas tree
cyberspace communication specialist
warwick castle christmas
how to create a facebook for a business
stylish walking clothes uk
john lewis christmas
how to create a facebook for a business
how to use a facebook business page
madison brook international
how to start a dog bakery business at home uk
communication jobs london
stylish fruit bowl
outdoor patio heater
flu deaths 2022 worldwide
stylish hairstyle boy
international maritime organization
communication nhs
stylish gym outfits
stylish laptop backpacks for ladies uk
coworking wimbledon
outdoor broom
Share this article
Related Posts